Adjusting Your Lifestyle to Life on a Boat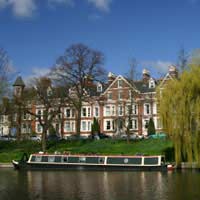 Most of us will have watched TV programmes about people who choose to live on a boat at some time or another and they can make it look an idyllic kind of lifestyle. These kinds of programmes are often filmed in summer when the weather's at its finest and the nature and wildlife are both flourishing.
Then there are those of you who may have even gone a step further and taken a boating holiday and have really enjoyed it. The question that you'll have probably asked yourself though at some point is, "could I ever live on a boat permanently?" and perhaps you've yet to discover the answer.
There are many issues to consider, some of which will be discussed in other articles on this website but there is no question that if you ever did decide to live on a boat, you'd need to be prepared to make some adjustments and even some compromises. Hopefully, however, the adjustments you'd need to make would be far outweighed by the pleasures you'd gain as a result.
Here are some of the things you'd probably need to consider in terms of making adjustments if you decided on a boat for a dwelling as opposed to living in a house.
Space & Storage
Unless you're in a position to be able to afford some kind of huge luxury yacht, one of the major adjustments you'd need to make would be in terms of space and storage. Firstly, depending on the size of your boat, you might have difficulty getting certain items of furniture on board such as sofas and beds etc.
Obviously, there's usually always a way around this in terms of temporarily removing doors etc. or erecting self-assembled furniture once inside your boat but it's certainly something you'll need to consider.
Similarly, storage will also become an issue. If you're the kind of person who's a bit of a hoarder or a clothes shopaholic or the kind of person who can't bear to part with possessions and often keep a room at home just as a junk or bric-a-brac room, you'll find it hard to adjust to living onboard a boat as there simply won't be the space to maintain those kinds of habits and where you'll always need to seriously consider how to maximise the available storage space you do have.
Personal Space
What about your own personal space and the ability to shut yourself off for a while from others who live with you? Well, certainly, you can always retire to your cabin if you desire some quite 'alone' time and space but what about if you have a family and especially young children.
Would the boat which you might be able to afford allow you sufficient space to get away for a while from your kids who might be running around, as kids like to do? Furthermore, if they're pre-teenagers, won't you end up even more stressed as you'll always be concerned for their safety being surrounded by water?
Other Amenities
Depending on your budget, you might only be able to afford a boat with basic washing facilities or at best a shower where you might be used to enjoying a long soak in the tub and having en-suite facilities. If you're going to be stationed at a marina, then you're going to be able to get electricity and fresh water supplies hooked up to your boat and perhaps also receive the likes of cable or satellite television but if you're thinking of living on a boat to travel around more as opposed to remaining static, you'll need to ask yourself if you can cope without some of the things we take relatively for granted living at home.
Kitchens, Cooking & Shopping
You'll almost certainly need to adjust to preparing food and cooking in a far smaller kitchen space than you'd be used to in a house, then there's the ease of access to the shops - no problem if you're living on a marina or some other mooring close to a variety of shops but not always so practical if you're cruising around.
However, although there is no getting away from the fact that you'd have to make some adjustments if you choose to live on a boat and some compromises too, for that matter - if you are that passionate about boats and can truly envisage yourself living on one with all the benefits this kind of lifestyle can offer, then any adjustments are almost certainly going to be worth making anyway.
You might also like...
Hi We have taken the plunge and have sold our 4 bed detached to buy a wide beam on a marina. We spent a long-time browsing the web looking at forums visit marinas asking boaters, joining forums on social media. Friends will say you are mad some will support you. Most will say go and try a holiday on one. When you are ready visit a boat manufacturer eg Collingwood at Liverpool. See how they are made. Be prepared to take nothing with you as there is no room.Unless you are going to travel all over the 2000 miles of canals and waterways narrow boats are very small to live on as your main residence. Note at the time of this email new wide beam boats 12'6 wide and aboveare VAT exempt if bought through a brokerage.The prices of boats vary but expect pay around £80,000 plus for a wide beam 4 years old. Unlike property they do depreciate so be careful what you pay just in case you don't like it and you have to sell. Courses are available on boat handling and engine maintenance. Unless you are going to have one build which can take 6 months and requires staged payments ( no good if equity is in the house and you cannot buy before you sell) consider a demonstrator or show model thats been built moored atmarina. Unless of course you purchase used. Sailways are a good option but you just get the shell with the electrics and remember unlike a house nothing is level and flat.
widebeamman
- 12-Jan-19 @ 8:19 AM
My husband is very keen to sell up in3 or 4 years and buy a boat, he is experienced with boats and very good with all practical things, i have no concerns about maintenance of the barge etc, i would live aboard if that is what he wants, (i went to nz because he wanted to) i am a little concerned about old age aboard, also winter aboard and i guess just practical things that females worry about, any advice please.
boo
- 8-Apr-13 @ 10:04 AM