Understanding Your Boat's Electrical System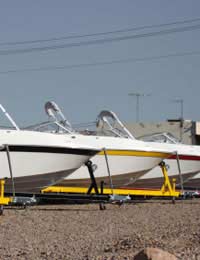 Electrical systems on boats can be relatively simple to extremely complex depending upon both the type and size of your boat and the amount and types of electrical appliances you're going to be running on board.
A Basic System
If you're moored up at, say, a marina with access to an electrical hook-up, the mains electricity will basically consist of a waterproof socket which is located on the outside of the boat which will be able to receive a plug from the mains connection lead.
The wiring from this socket is then connected to a fused distribution unit which tend to use trip switches and it's from this distribution unit that wiring can then be run through the boat to incorporate lighting and other power sockets.
In this scenario, it's very similar to how you'd get access to electricity if you were staying on a caravan park with a mains hook up. However, if you're out cruising on the canals or on the open seas or you're moored where there is no hook up, you'll need to rely on other methods of generating electricity. The main options are as follows:
Using a generator which tends to be either small petrol driven portable unit to an installed generator which runs off diesel
By converting 12 volt battery power into 240 volts by using an inverter
Using a 240 volt AC alternator attached to the engine
Inverters
Having a good supply of batteries is crucial if you're using an inverter. The larger the battery banks the longer they will last between needing to recharge them. Remember too that you need to connect the batteries that are being used to run your appliances and not the one being used to run the boat's engine.
An inverter works by converting the 12 volt DC current from the battery to 240 volt AC mains current and the actual size of the inverter can vary from 150 watts up to 3000 watts so your choice will be determined by what kind of electrical appliances you're looking to run on board. Smaller inverters are fine for the likes of running a TV set or computer whilst larger ones can supply sufficient power to run a washing machine and dryer.
But where you're looking to use a lot of electricity, your batteries will discharge quickly unless you're running the boat's engine fairly consistently. However, inverters are useful if you're only relying on mains power whilst away from a hook up for a relatively short period of time.
Generators
You can get both small portable petrol-driven generators and also larger diesel powered ones. There are pros and cons to each. With the smaller petrol-driven units, they operate more quietly but are only really designed for powering smaller appliances and for a short period of time.
Diesel powered generators which are installed on the boat are capable of running much more electricity hungry appliances and over a longer period but they tend to be quite noisy and if you're moored up close to other boaters, they'll become an annoyance to others, so you shouldn't really run them at night.
240 volt AC Alternators
These devices are attached to the boat's engine and work in a very similar fashion to that of a car's alternator - the main difference being that they produce 240 AC current instead of a car's 12 volt DC current. Once again, however, although they come with different wattage outputs to suit your needs, the power can only be generated when your boat's engine is actually running.
Whichever way you decide you're going to generate electricity, it's important that you get to understand the basics of how the electrical system you choose actually works and there are plenty of books and online resources to help you do that. On a practical level, the main thing is that you're working with 240 volts AC so you need to just adopt the same principles in terms of following safety precautions as you would if you were living in a house with the added responsibility of remembering that you are on a boat and that electricity and water don't mix so you need to make sure the mains system is fused and that you keep all cables well away from water.
Unless you're a qualified electrician and one who understands the main differences and problems you can encounter using electricity afloat as opposed to on dry land, you should leave any maintenance and rewiring etc to the experts. That said, as part of your routine maintenance, you should always keep an eye out for any worn or damaged cables or wires and ensure that you have them repaired or replaced immediately as appropriate.
You might also like...
Hooked up in marina my lights work but if I put the inverter on all OK. The is credit on the electric. Any idras