How To Choose a Boat To Suit Your Needs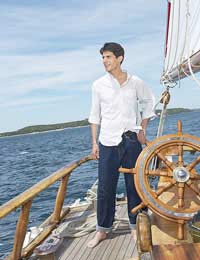 So, you've decided that you want to live on a boat. The next thing is to decide what type of boat is going to suit your needs. There are probably four main key issues you'll need to consider - cost, boating lifestyle, practicalities and resale value.
It's crucial that you don't let 'romantic notions' of a particular boating holiday or experience cloud your judgement and neglect to consider the key issues mentioned above as you need to remember that a holiday on a boat is not the same as living on one.
Cost
The cost of a particular boat is going to be the single most important determining factor when it comes to choice. You might fancy life living on a luxury yacht and the high society life that might come with that when moored up in some plush marina, for example, but can you really afford both the boat and the lifestyle?
Then you may need to consider whether you can afford to buy new or second hand and, if the latter, you'd need to factor in the condition of the boat and what additional costs are going to be incurred to make it seaworthy or to have it looking as you want it to as what might seem like a bargain may turn out to be anything but.
Even if you're able to purchase a brand new boat, you'll still need to establish what the running costs are likely to work out at and the sort of money you'll need for regular maintenance and any possible repairs that might suddenly be required.
Practicalities
The practicalities of choosing the right boat to suit include things like how many people will be living on it and whether or not it's suited to your own physical condition, whether you're looking for a static, permanently moored boat or, if you're actually going to be travelling from place to place.
Your choice will also need to take into account the skills, experience and aptitude of the person who will be skippering the boat and whether or not they're going to be able to handle it not just now but as they get older.
It will also include thinking about the type of life you want to have on board in terms of life's little 'luxuries' and things like the number of sleeping cabins, the size of the galley, whether or not you can still have some of the creature comforts you're used to at home such as your PC, music system and big screen LCD and if they will fit into the available space without compromising everyone's ability to be able to move around the boat freely and easily.
Boating Lifestyle
There are so many different types of boats you could live on and the type of boating lifestyle you enjoy is going to play a large part in your choice. For example, a narrowboat or river barge would be your ideal choice if you like your boating gentle and enjoy spending lazy days at a slow pace cruising the waterways floating along amidst nature and wildlife. Alternatively, if you enjoy the thrill of the ocean and being able to sunbathe on deck all day and jump off your boat for activities such as swimming, snorkelling or diving, then you'll be looking at yachts and other types of sea faring craft.
Resale Value
Boats can take a battering from the elements too so you'll want to ensure that the boat is durable, especially when it comes to things like the hull as that is likely to bear the brunt of the effects of long term wear and tear so, just as with a house, considerations will be needed such as how much and how quickly it's likely to depreciate in value, what you're paying for it now and how much it's likely to be worth in 2, 5, 10 years' time etc., if you decide you may want to sell it on to buy something else.
There will probably be several other considerations you'll want to think about too but it is important to seek advice, think about your own needs and preferences and to carefully consider all of the aspects above before deciding which boat is the right choice for you.
You might also like...
I am an ex-merch skipper who will be buying a grp sports cruiser. Should I use his or an independent solicitor?
Dutch.
- 26-Feb-14 @ 10:45 AM
Iam an ex merch skipper and will be buying a Grp Sports Cruiser. Can I trust a Yacht Broker or do I go through the owners or an independent Solicitor.
Dutch.
- 26-Feb-14 @ 10:38 AM