Renting a Houseboat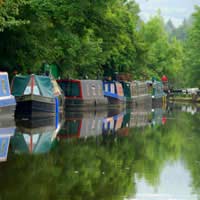 Renting a houseboat to live on would seem like a useful alternative to buying a boat outright, especially for those that are either unsure whether or not boat living is for them although they're still attracted enough to the idea of, at least, wanting to try the lifestyle for a while with the idea of buying a boat later if they take to life on the water.
Alternatively, some people may have definitely decided that they want to live on a boat but cannot afford to buy one outright or cannot raise the money through a mortgage or loan for whatever reason.
How To Go About Renting a Boat
Unlike the housing market where getting a place to rent is rarely a problem, renting a boat to live on is not as simple as you might think. One of the main reasons for this is that people who tend to buy boats do so because they want to live on them themselves. Those who do buy one as an investment tend to only rent them out over the short-term as a holiday boat rental, for example where, especially in the summer months, they can charge a premium rate for doing so.
That's not to say that it's impossible to find a boat rental for a longer-term and the internet is probably one of the best places to look. You may have to do a bit of delving around but there are many sites devoted to boat living in general some of which will contain forums or message boards where boating enthusiasts can exchange information and you may just get lucky and come across somebody who's looking to rent out their boat on a medium to long term basis.
Otherwise, you could be proactive and post a message on the forum or message board, stating that you're looking to rent for at least 'X' amount of months and the specifics of what you're looking for and you might find somebody gets back to you who can help or posts a response on the forum. Boating magazines will also contain classified ads so you may want to keep checking those or placing an ad yourself.
Things To Bear In Mind
If you do get lucky and have the opportunity to rent a boat for living on it's important that you establish certain issues. Firstly, you'll need to make sure that the boat comes with residential mooring rights as many mooring agreements prevent boat owners from letting their boat. If all the paperwork is in order in that regard, you'll also need to find out whether or not you're liable for council tax.
The chances are you will be liable with a residential mooring so don't simply assume that because you're living afloat with no residential 'address' as such that you're exempt from council tax as you're likely to end up in trouble with the local authority. If you're eligible, however, and you're able to obtain a live aboard rental, you'd still be able to claim the likes of housing benefit to cover the full or partial cost of the rental, the mooring costs and the boat licence.
Tenancy Agreements
You should normally be looking to obtain a common law tenancy and it's crucial that you carefully read through any tenancy agreement first. These will obviously differ depending on the boat's owner but things like security deposits, liability issues if there is any damage to the boat, your responsibilities regarding any general maintenance and who's responsible for what as well as the length of the tenancy are all issues you'd need to look at carefully.
Be prepared to hunt around, however, and to be both patient and pro-active in your approach as residential boat lettings are not as common as you might think.
You might also like...
Hi there, I'm Holly, I'm 25 and live in the Manchester area. I'm looking at renting a barge for no less than 6 months. My dad currently lives in a barge so I know everything it entails. Please get in contact if you can be of any help. Thank you! Holly
Holly
- 22-Feb-19 @ 2:49 PM
We are looking to rent a narrow boat for around a 6 month period around the Rochdale / Oldham areas of Lancashire. Can anyone assist with anything that may be avaiilable ? Thanks
Hello does anyone no of a house boat to live on long term on the Norfolk Broads pleas . Thanks for your help
Luke
- 23-Jan-19 @ 12:06 PM
I'm looking to rent a boat in the midlands area. I have a well behaved 2 year old French Bulldog. No kids. I'm a professional with the nhs. Long term rent with moorings essential.
caryb
- 13-Jan-19 @ 10:55 PM
I am a professional 43 year old professional female looking to rent a residential houseboat or barge for a long term tenancy within Nottingham. I would require mooring/council tax to be inclusive in the rent and a location whereby public transport is reasonably accessible. I am looking to move early to mid March 2019 when my current tenancy expires. Please contact a.s.a.p if you have suitable accommodation to view, Regards Esther
Esther
- 11-Jan-19 @ 4:05 PM
I am searching for a long ferm moored barge in the midlands area ideally stratford upon avon but open to other areas including London. The rental would be long term as a home for myself and my partner. We are both mature (40's) professionals andbusiness owners. We currently have no pets and are children free, we would like to have the option of a pet (small dog) within the agreement. The rental would require all documents for residential mooring and rental licencing to be produced and a tenancy agreement. Kind regards Ben and Ginger Hill
Ben
- 28-Dec-18 @ 10:04 PM
Does anyone know of where I could rent a houseboat in kent for January and February possibly longer.thanks Steve.
Steve
- 9-Dec-18 @ 11:34 AM
Does anyone know if there are any rent to buy options anywhere? I have a decent deposit and it seems like a good route to buying a boat
Laura
- 6-Dec-18 @ 4:51 PM
I work 2 days per week at Edge Hill University but live in Wales. I have to stay 2 nights per week (Tues, Wed) in the area and would like to investigate the costs of staying on a boat in the area of Ormskirk, Burscough, parbold. I use public transport so would need to be really close or on a train/bus route.I would be prepared to commit to several months stay over the winter months.I am 63 and female.
Eiluned
- 23-Nov-18 @ 1:25 PM
looking to rent to love long termor buy to let , im single no pets 42 felmale lived I glossop 8 years . Would really love to live and own a barge. Plus could me homeless in four weeks from Know .not looking for private housing or council thanks Sylvia ??
Hi, have a 34ft seagoing ketches rigged motorsailor. It's based in Chatham andcwould be interested in renting it to a boat aware person. Please contact to discuss terms if interested
Quack
- 7-Oct-18 @ 11:03 PM
Hi I'm Joe Looking to rent a house boat in the Cambridgeshire area? I'm a boatbuilder at Fairline yachts in Oundle and would also offer on top of rental fees any work you want doing I'll do... Hope to hear back from someone even if it's some advice? I'm 25 and want to eventually start up a narrowboat renovation business. Cheers
JOSEPH
- 27-Sep-18 @ 11:41 AM
Hello We are retired and looking to rent a narrow boat longer term 1-6 months. I lived on my own 50ft narrowboat for 12 years so knowledgable and confident about the working and handling of a boat... but now I have more time would love to repeat the experience and live the magical life even for just a while. Living in our flat we miss the life afloat. Can you help please?
Tillymint
- 21-Sep-18 @ 5:53 PM
Hi, looking to rent a live a board boat long term. Not worried as long as it's at least a 2/3 berth whether that be a small boat or full on narrow boat. Would like it ready to sail, do t mind where it is but would prefer no where further north than Birmingham. Ideally looking for 6 months to start off with but can be persuaded otherwise. Many thanks
Shopy
- 9-Sep-18 @ 10:18 PM
Hi Hester I am considering the option you offer What are the fees ?
Dave
- 9-Sep-18 @ 5:29 PM
Hi, I'm looking to rent or buy a liveaboard in Bristol, so keen to hear of any opportunities coming up! Many thanks, Fi
I rent out my 57ft narrowboat called 'Gloria' for the winter months at the Bridgewater marina in Boothstown (9 miles by road from Manchester city centre. The hire is for a static let only and for 1 person for the full duration from November 18 to March 19. This winter will be the 4 year that I have offered this winter static hire (I operate holiday hire for the rest of the year). Let me know if you are interested. Cheers Hester
Hester
- 18-Aug-18 @ 9:09 AM
Interested in long term boat rental up to 1 year in Berkshire area.I am considering buying a boat as my home due to expensive house prices in area but want to first understand and experience boat life. I am able to afford 550pcm but this is inclusive of all bills may be able to stretch but depends on what is included.Hope to hear soon.
Kim
- 18-Aug-18 @ 3:21 AM
Hi I am looking for a boat to live on for 6 months or long term, I work for a nursing Agency all over Devon and my partner is a carpenter I love gardening and the outdoors and work love the opportunity to live on a boat, we have 2 well behaved small non moulting dogs, excellent references and would keep the boat immaculate Anyone out there willing to give us an opportunity wouldn't regret it many thanks for reading
Shelley Winter
- 23-Jul-18 @ 11:34 PM
I want to rent a houseboat for three months from the 20th March 2019. Please let me know what is available. Regds... Abraham
Pasha
- 16-Jul-18 @ 6:45 PM
Hi i am a retired 58 year old Architect Looking for a long term livaboard narrowboat I live on my own and thought it would be a good idea to try the lifestyle before eventually buying a boat of my own this is my first look into renting I currently live in Nottingham and need to stay local as I have elderly parents herethat Iwant to be close to I currently rent a small houseand can afford approx £500 per month I would love to hear from anyone who might be able to help I will obviously come and view it at a time to suit and with that in mind look forward to hearing from you I too will take great care of your boat and can provide any number of references thank you regards Richard
Rich
- 16-Jul-18 @ 6:54 AM
Used to have a Norman cruiser..also a 40 ft...was a welder fabricator at streethay wharf...sold up and gave up the life to care for my dad who fell badly with lung cancer... Dad passed.. I think mums ok to leave to her own devices now... So looking to get back on the water now...I think it's time. Will have to rent to start with...400pcm Would be great.. Working full time..also great with the inns and outs of boat life that others won't.. Tamworth is closer to work for me. Look forward to hearing from you.
Daz
- 28-Jun-18 @ 7:25 PM
Hi both my daughter and I are looking for a long term rent on a 50ft two bedroom barge boat £400 pcm if possible. Liverpool/Leeds area. Good references.If you can help please contact me. Many thanks.
Olivia
- 9-Jun-18 @ 6:47 AM
Hi, I am a 53 year old professional who spends 4-5 days working away nationally. I currently live in Cardiff and would love to rent a canal boat long term ( at least 6-12months) anywhere around the Southwest or Wales ideally, however I am open to a boat further afield... I have previously lived on my sailboat, so I do know my pointy end from the other one. Please drop me a line if you have a boat for rent or can point me in the right direction... Many thanks Charlie
Charlie
- 15-May-18 @ 12:51 PM
Hi am looking for a 3to 4bed rooms on boat houseam disabled andhavedream off living on house boat for a long time near Rochester as have son still in school and also one that would do a long term rentbut husband had to give up work to look after me can get around but need aids to walk so we are living in rented house but just want to live a dream off mine so ifit in cheap rent and some to let us look after there boat and let us live the dream please email me backhope I can stop dreamingand have a wish come true
Leapingkaz28
- 9-May-18 @ 2:47 PM
Looking for a 6-10month rental of houseboat/barge static or otherwise in the Northants area. Single occupancy.
Any house boats on Norfolk Broads near Suffolk ideally
Aussi
- 5-May-18 @ 6:50 PM
I am looking to rent a boat to live on for six months or more i am a long distance lorry driver and work sun to FridayI can provide referencesI'd like to be able to use it to travel around UK but if it's in a permanentlocationthat's fine . I am able to do any maintenancethat needs doing as well
Titch
- 3-May-18 @ 12:59 PM
Hi Both myself & my husband are looking for a long term rent on a floating home or floating lodge around the Huntington 2 bedrooms Cambridgeshire area or close by .. I must stress we are looking for something long term , so if you can help please don't hesitate to contact me ., We come with good references & will look after any potential rents well .
JoJo
- 27-Apr-18 @ 5:22 PM
Hi all, looking rent a narrow boat for 6 months to 12months around Leeds/Bradford area around £400 pcm if possible. Many thanks
Matt
- 24-Apr-18 @ 12:04 PM