Renting a Houseboat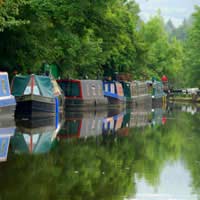 Renting a houseboat to live on would seem like a useful alternative to buying a boat outright, especially for those that are either unsure whether or not boat living is for them although they're still attracted enough to the idea of, at least, wanting to try the lifestyle for a while with the idea of buying a boat later if they take to life on the water.
Alternatively, some people may have definitely decided that they want to live on a boat but cannot afford to buy one outright or cannot raise the money through a mortgage or loan for whatever reason.
How To Go About Renting a Boat
Unlike the housing market where getting a place to rent is rarely a problem, renting a boat to live on is not as simple as you might think. One of the main reasons for this is that people who tend to buy boats do so because they want to live on them themselves. Those who do buy one as an investment tend to only rent them out over the short-term as a holiday boat rental, for example where, especially in the summer months, they can charge a premium rate for doing so.
That's not to say that it's impossible to find a boat rental for a longer-term and the internet is probably one of the best places to look. You may have to do a bit of delving around but there are many sites devoted to boat living in general some of which will contain forums or message boards where boating enthusiasts can exchange information and you may just get lucky and come across somebody who's looking to rent out their boat on a medium to long term basis.
Otherwise, you could be proactive and post a message on the forum or message board, stating that you're looking to rent for at least 'X' amount of months and the specifics of what you're looking for and you might find somebody gets back to you who can help or posts a response on the forum. Boating magazines will also contain classified ads so you may want to keep checking those or placing an ad yourself.
Things To Bear In Mind
If you do get lucky and have the opportunity to rent a boat for living on it's important that you establish certain issues. Firstly, you'll need to make sure that the boat comes with residential mooring rights as many mooring agreements prevent boat owners from letting their boat. If all the paperwork is in order in that regard, you'll also need to find out whether or not you're liable for council tax.
The chances are you will be liable with a residential mooring so don't simply assume that because you're living afloat with no residential 'address' as such that you're exempt from council tax as you're likely to end up in trouble with the local authority. If you're eligible, however, and you're able to obtain a live aboard rental, you'd still be able to claim the likes of housing benefit to cover the full or partial cost of the rental, the mooring costs and the boat licence.
Tenancy Agreements
You should normally be looking to obtain a common law tenancy and it's crucial that you carefully read through any tenancy agreement first. These will obviously differ depending on the boat's owner but things like security deposits, liability issues if there is any damage to the boat, your responsibilities regarding any general maintenance and who's responsible for what as well as the length of the tenancy are all issues you'd need to look at carefully.
Be prepared to hunt around, however, and to be both patient and pro-active in your approach as residential boat lettings are not as common as you might think.
You might also like...
Looking for a long term rent near wroxham Norfolk
Shazzyp
- 24-Sep-21 @ 7:50 PM
Hi looking to rent a 1 berrh boat long term in bristol from october 21
2021boat
- 12-Aug-21 @ 5:17 AM
Hi, I am looking to rent a houseboat in Leicester for about 8-12 months. I am looking at an immediate start. Looking forward to getting a response.
Looking to rent long term in Oxfordshire
Budgie
- 1-Aug-21 @ 3:19 PM
Hi I'm looking for a house boat to live on long term with my husband, somewhere in the Surrey area would be great. We want to settle and make a home for ourselves. 2 bedroom min would be great. Can anyone help Kind regards Tanya
Lady T
- 26-Jul-21 @ 1:11 PM
I am looking for a houseboat in Liverpoool area to rent on a monthly basis for minimum 6months per year
Louise
- 26-Jun-21 @ 8:15 PM
Hi looking for a two bedroom houseboat to rent long-term around Glasgow area if any one can help please get back to me thank's linda
Betty
- 26-Jun-21 @ 11:18 AM
Hi im looking to live on a house boat in leicester. After a relationship breakdown. If there are enybody that has a boat to rent in leicester I'd be happy to hear from you thanks for your time
Im looking to rent long term with my partner in Nottingham. House boat preferably but open to other offers
Julie
- 1-Mar-21 @ 5:38 PM
I am looking for somewhere to rent after a relationship breakdown and fancied a narrow boat but before committing thought I would try to rent for six months or a year to see if if was for me I am a self employed carpenter working for a company in baldock Hertfordshire but as I have to travel would consider Herts beds bucks or Cambs Look forward to hearing if anyone could give me any help Regards Greg
Ralph
- 22-Dec-20 @ 9:50 PM
Hi I'm a self employed telehandler looking to rent a boat long term in the Milton Keynes Northamptonshire Bedfordshire must sleep me a my two young children can any one help me 07764704513
Matt
- 28-Oct-20 @ 2:37 PM
Hi I am a teacher who is looking to live on a boat full time. I am looking for a long term rental until then in the Lancashire/blackburn area.07525945977
Glynn
- 26-Oct-20 @ 6:37 PM
I'm looking for a boat to live on for a few months to see if I like it before I commit to buying one I'm not that bothered about the area as long as it's nice Ideally the Midlands but not that bothered!
Sam
- 24-Oct-20 @ 7:37 PM
I am looking at renting long term live on boat in Maidstone area, can anyone help, number is 07973 949 563
Ade
- 13-Oct-20 @ 1:53 PM
Hi i'm thinking of buying a narrow boat next year but would like to try living on one for 3-6 months to make sure i like it before i buy! I'm in Leicester (east midlands) so ideally in this area but i may consider further afaield as i'm self employed and mainly work online so can work from anywhere really
samson
- 7-Sep-20 @ 7:08 PM
I'm self employed professional looking to rent a boat for 6 to 12 months to make my mind up if I would like to purchase one recently divorced I think now it's time to follow my heart and live on a boat which is something I've always wanted to do Manchester and surrounding areas I'm quite flexible Thank you Trace x 07411055638
Trace
- 29-Aug-20 @ 10:21 PM
Hi I'm looking to renta boat long term around the wakefield , Stanley ferry area , please contact me via email or on 07961731163
Smiley
- 29-Aug-20 @ 8:42 PM
Am looking rent a boat for myself in Milton Keynes area, I am a single man and work full time carpenter.
Jord
- 21-Aug-20 @ 6:44 PM
looking at the prospect of renting a houseboat/canal Barge for a residential letting. I'm probably looking to rent the accommodation for 6-9 months, Herts/Beds based Many thanks
Aj87
- 16-Aug-20 @ 10:58 PM
I am looking to rent a boat long term Bristol/bath/Bradford Avon for myself and 2 kids Many thanks
Moondance
- 16-Aug-20 @ 11:25 AM
Hi, I'm a professional looking to rent a boat for 12 months in or around Oxfordshire. If anyone has or knows of someone wanting to rent a boat out please contact me on 07539492221 Thanks
Ben
- 19-Jul-20 @ 11:40 PM
I'm desperately searching for a boat to rent... I was on the water 10 years til I went to America in Feb.. I've come back to nothing and am in a hotel. I would like to do housing benefit til I'm settled and find work.. I'm a single woman 42 and have a water trained dog too. I'm in Milton Keynes at mo but am not fussy about where I go.. Pls help
Punk
- 17-Jul-20 @ 10:46 AM
I'm looking to rent a houseboat in Edinburgh for a year, non smoker, responsible, good references.
Fashionista
- 2-Jul-20 @ 12:05 PM
Hi im a professional male looking to rent a boat in Cheshire long term as im looking to buy my own boat but want to experience the boat life first before I make the big plunge of buying my own narrow boat. 07868027799
Karlos
- 1-Jul-20 @ 9:08 PM
Hello I'm a professional clown, juggler and musician looking for a boat to live and work on for a few months... Please call 07432 235 247 No experience, just years of circus work and caravan life on the road.
Twix
- 26-Jun-20 @ 11:14 PM
Hi. Looking for a house boat rent initially for 6 months from July 2020 in the Cheshire / North East Wales area. One bedroom would be fine but happy to consider larger. Professional couple. No pets. Non smokers.
Simon
- 7-Jun-20 @ 2:26 PM
Am in the north west am looking to rent a boat to live on for as long as i can iv two small dogs if anybody can help please don't hesitate to contact me 07522487252 thank you
Brian
- 25-May-20 @ 8:37 PM
Hi. Looking for a reasonably priced narrowboat hire from approximately end of Aug 20 to Mar 21. North West region ideally around the Wigan Area. Static required but would like to take it on a few short journeys in September. 07531980097
Netty
- 20-May-20 @ 11:58 PM
hi looking to rent a boat house long term in heartfordshire
Tracy Thorogood
- 19-May-20 @ 4:23 PM
Hello, we are a happily married couple mid 50s very respectful and respectable, educated and professional. We are seeking a liveaboard narrow boat for long-term rent in Central Bedfordshire. Non smokers and no pet. Very good references and deposit available. Many thanks, Chez
Chez
- 17-May-20 @ 10:42 AM