Renting a Houseboat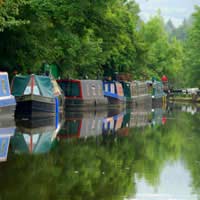 Renting a houseboat to live on would seem like a useful alternative to buying a boat outright, especially for those that are either unsure whether or not boat living is for them although they're still attracted enough to the idea of, at least, wanting to try the lifestyle for a while with the idea of buying a boat later if they take to life on the water.
Alternatively, some people may have definitely decided that they want to live on a boat but cannot afford to buy one outright or cannot raise the money through a mortgage or loan for whatever reason.
How To Go About Renting a Boat
Unlike the housing market where getting a place to rent is rarely a problem, renting a boat to live on is not as simple as you might think. One of the main reasons for this is that people who tend to buy boats do so because they want to live on them themselves. Those who do buy one as an investment tend to only rent them out over the short-term as a holiday boat rental, for example where, especially in the summer months, they can charge a premium rate for doing so.
That's not to say that it's impossible to find a boat rental for a longer-term and the internet is probably one of the best places to look. You may have to do a bit of delving around but there are many sites devoted to boat living in general some of which will contain forums or message boards where boating enthusiasts can exchange information and you may just get lucky and come across somebody who's looking to rent out their boat on a medium to long term basis.
Otherwise, you could be proactive and post a message on the forum or message board, stating that you're looking to rent for at least 'X' amount of months and the specifics of what you're looking for and you might find somebody gets back to you who can help or posts a response on the forum. Boating magazines will also contain classified ads so you may want to keep checking those or placing an ad yourself.
Things To Bear In Mind
If you do get lucky and have the opportunity to rent a boat for living on it's important that you establish certain issues. Firstly, you'll need to make sure that the boat comes with residential mooring rights as many mooring agreements prevent boat owners from letting their boat. If all the paperwork is in order in that regard, you'll also need to find out whether or not you're liable for council tax.
The chances are you will be liable with a residential mooring so don't simply assume that because you're living afloat with no residential 'address' as such that you're exempt from council tax as you're likely to end up in trouble with the local authority. If you're eligible, however, and you're able to obtain a live aboard rental, you'd still be able to claim the likes of housing benefit to cover the full or partial cost of the rental, the mooring costs and the boat licence.
Tenancy Agreements
You should normally be looking to obtain a common law tenancy and it's crucial that you carefully read through any tenancy agreement first. These will obviously differ depending on the boat's owner but things like security deposits, liability issues if there is any damage to the boat, your responsibilities regarding any general maintenance and who's responsible for what as well as the length of the tenancy are all issues you'd need to look at carefully.
Be prepared to hunt around, however, and to be both patient and pro-active in your approach as residential boat lettings are not as common as you might think.
You might also like...
Hi all, looking rent a narrow boat for 6 months to 12months around Leeds/Bradford area around £400 pcm if possible. Many thanks
Matt
- 24-Apr-18 @ 12:04 PM
Hi Nick, do you still hve the boat on leeds and can we have a chat if so.? Please email me
Matt
- 23-Apr-18 @ 1:28 AM
Hi I've always wanted to live on a boat. I'm looking to rent one either canal or sea in the Exeter area or close to. Can afford £500 a month. I work full time and currently rent a garden flat. But at the stage in my life where I want to change.
Doug
- 21-Apr-18 @ 7:12 PM
Hi all I'm looking to rent a boat, I grew up in York where my grandad used to work on barges sadly he past before I got chance to explore with him. I've had longterm health issues an have just got them in order so now would like to recover an explore the life my grandad so much loved I can afford £300/month but have a array of skills in which I could help fix up the boat or what ever. I don't mind where the boat is along as it can be moved as I need to see my daughter on weekends x
Gingerbread
- 17-Apr-18 @ 3:37 PM
Hi all, I have a lovely canal boat with double bed, bathroom, kitchen, log burner etc. Based in Leeds city centre. The boat is in excellent condition and is ready to move in straight away. I am looking to find out if anyone would be interested in renting the boat (min 6 months). Due to work commitments I am looking at moving out of the city. Please get in touch for more information.
Nick
- 8-Apr-18 @ 4:08 PM
Hi there I am a 25 year old man and work all over the country but spend most of my time in hotels and would just like to have some home comforts. In the past I spent time on canal holidays as a child so combining a life on the canal with my full time occupational commitments, would appear to be the perfect marriage. Any guidance that could be given would be very much appreciated as I realise the jump from land to canal could possibly be very taxing. Also, I'm eager to make the transition as soon as possible but for the initial shift I'm looking to rent a narrow boat for a short to medium term. My budget per month is anything up to £850 pcm so if anyone could help please and I will get back to you as soon as I can.thanks very much
Timmy
- 11-Feb-18 @ 5:32 PM
I would like to rent a houseboat so that I can be on my own always want to live on the River and there are lovely views around here
Mas
- 10-Feb-18 @ 5:57 PM
Professional person looking to rent a boat long term in Bristol must have at least 2 bedrooms.
Helen
- 14-Jan-18 @ 10:52 AM
Looking to rent a boat long term in Norfolk hilgay, downham and surrounding areas Currently renting a mobile home near kings Lynn. Reference's available with current land lord. Working full time. Would just just be myself. I've experienced the rivers as used to have family boat on the broads. Email if you have anything available. Regards jo
Jo jo
- 26-Nov-17 @ 5:53 PM
I'm and my wife are in Pension, 67 and 64 years old and would like to rent a 50 to 60 foot Narrowboat from May to September in England. Any help or offers here? One double bed and possibility for two Person more.
resi500
- 21-Nov-17 @ 9:28 PM
Hilooking for a boat to rent long termmoving out of London in work in Faversham
Smithy
- 11-Nov-17 @ 7:25 AM
Hi am working in Leeds and looking for boat to rent Monday to Friday for long rental
Phil
- 3-Nov-17 @ 3:46 PM
Hi I'm 53, professional and currently loving in a one bed flat. I've been renting the same flat for over 6yrs and have a perfect record with my landlord. I'm looking for a change and would like to rent a houseboat ( 1 or 2 bedrooms ) for the long term, probably years. I need something in the North Glasgow/ Kilsyth/ Kirkintilloch/ North Lanarkshire / East Dumbartonshire areas maybe Glasgow.
BS
- 26-Aug-17 @ 10:26 PM
I am a 57 year old woman who has over the past 4 years lost my parents and my younger sister just before chrisrmas 2016 and no family left nearby now and i am now looking to rent a static long lease riverboat in Scotland only for my son and myself,i am disabled and wish to retire to a rural life which will benefit my health problems,thanking you
Carol
- 1-Jul-17 @ 7:13 PM
Hi there, we are a family, partner works full time, so we are looking to rent all years round, possibly long term, we are looking into the financial side, it is all well and good having a dream, but I wouldn't venture into anything unless I knew all the upfront costs of such an endeavour. We live near Lea valley river (Wormley to be precise) and are just generally scouting around for info, cheaper to rent or buy, all the monies we would need in advance, references, etc. If anyone can give us a low down on above info, we would be deeply grateful. Peace out everyone, and have a lovely weekend :)
Jellytotz
- 10-Jun-17 @ 3:05 PM
Hi we're a solvent mature married couple (early 50s) with a view to renting a canal boat mid to long-term anywhere in the UK but pref outside of greater London and north of Bedford. Would not necessarily need a permanent mooring in a marina. We can supply good references which can be checked.
Chez
- 19-May-17 @ 9:17 AM
Me and my partner are looking to rent a boat all year round? We have a little girl that loves the our doors. Any one with any information on any sites or people with boats to rent long term please email me Many thanks Skye
Legs
- 10-May-17 @ 9:15 PM
I work in London need a boat to rent in the week money to thursday
Sojic
- 1-May-17 @ 5:50 PM
Hey there, Where would one look for a liveaboard to rent around the Bristol area? Ideally looking for something long term. Not to buy just yet though. Is there a forum or the like floating around somewhere? Thanks! Bronwyn
Bron
- 24-Apr-17 @ 9:19 AM
Can any one please.point me in direction of my dream.I'm looking for a static or freestyling boat in london I've a buhdet of.unto 1000 a month any advice leads or a boat to rent please get on touch.and male.a.man smile again. peace love.
walks
- 20-Apr-17 @ 4:44 PM
54 year old woman just returned from year travelling, working and house sitting in Argentina. Looking to buy a Dutch barge but want to experience living aboard first - Anyone wanting a barge sitter for a few weeks or anyone with a wide beam/ Dutch barge to rent for a few monthsanywhere - but not London - please get in touch. I am reliable professional and will look after your boat very carefully !
ElleeB
- 4-Apr-17 @ 11:21 PM
Hi, we're a professional couple looking to rent a house boat long term which we'd like to moor in the Marina in Newcastle Upon Tyne. Would even consider a rental whereby the owner may want to sell going forward. Also does anyone have any advice on where to go to look at finance for purchasing a boat? Many thanks
Darren
- 19-Mar-17 @ 1:45 PM
Dear all, Can anyone please be kind enough to point me in the direction of how to find a houseboat to rent for a year? Preferably in Sussex if at all [possible. I have spent hours on the internet and have got nowhere! Very many thanks in advance for any help that you can provide. Best regards Mike
Mike
- 15-Mar-17 @ 6:19 PM
Hi I'm looking for a narrow boat to rent in Bristol. Minimum of 6 months preferably something quite permanent. £500pcm Contact me if you have this to offer. A safe tenant, house proud and respectful Thanks guys!
Jay
- 28-Feb-17 @ 3:09 PM
It has been a dream of mine to live on a boat and this year I have to make it happen! We are a professional couple in our mid 30s based in Bristol and would be looking at renting somewhere for a minimum of 6 months. Look forward to hearing from people who can start pointing me in the right direction and realise this dream! Thanking you in advance :) Laura & Mark
LozRobz79
- 15-Feb-17 @ 5:50 PM
Hi. I work in the motorsport industry and need somewhere to stay around Silverstone. If you have a boat and are looking for someone to look after it, keep it clean and just generally maintain it, please let me know. I live in Norfolk so looking for somewhere during the week. May stay some weekends depending on racing calendar.
Rupert.
- 17-Jan-17 @ 2:05 PM
Looking to rent with a view to buying a boat on the river tees near Stockton town Tees Barage/five lamps bridge. Mature self employed female solvent and responsible.
Teddygirl
- 12-Jan-17 @ 9:03 AM
Hi there, i am a mature female, freelance Interior designer looking to spend some time living on a canal boat. It's been a dream to do this for a while and I would love to help someone with their boat interior should my expertise be needed.But just to try out this style of alternative living for a while, has great appeal to me. If i can help you at all with yr small space design project and /or you are looking to rent out yr boat sometime in 2017, please get in touch.
Heebajeebs68
- 13-Dec-16 @ 10:06 PM
Hi, I have a converted tug in central London and looking at renting it out.Am looking for £375 a week. Ideal for professional couple. 2 bedroom - main room is large, second room has a small double bed (not a large room). 2 Toilets 1 bathroom Great location.Tastefully furnished. If interested, get in contact for photos. Regards,
BoatLife
- 21-Oct-16 @ 12:38 PM
Hi, I'm a 30 year old male looking for a boat for a long term hire, before I commit to buying one. Preferably in the Trowbridge/Bath/Bristol area. I have PTSD and have been struggling with "normal" living and spend a lot of time by the water to find peace. I'm essentially homeless right now and sofa surfing, but have some money coming over the next year and I want to find out if boat living is for me, I'm pretty sure it is! I can claim £400PM in DSS (I had worked all my life prior to the attack) and happy to work on maintaining the boat. Please please please get in touch
Boatee
- 3-Oct-16 @ 10:06 AM