Renting a Houseboat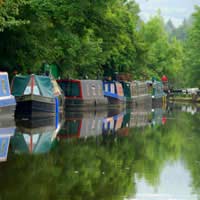 Renting a houseboat to live on would seem like a useful alternative to buying a boat outright, especially for those that are either unsure whether or not boat living is for them although they're still attracted enough to the idea of, at least, wanting to try the lifestyle for a while with the idea of buying a boat later if they take to life on the water.
Alternatively, some people may have definitely decided that they want to live on a boat but cannot afford to buy one outright or cannot raise the money through a mortgage or loan for whatever reason.
How To Go About Renting a Boat
Unlike the housing market where getting a place to rent is rarely a problem, renting a boat to live on is not as simple as you might think. One of the main reasons for this is that people who tend to buy boats do so because they want to live on them themselves. Those who do buy one as an investment tend to only rent them out over the short-term as a holiday boat rental, for example where, especially in the summer months, they can charge a premium rate for doing so.
That's not to say that it's impossible to find a boat rental for a longer-term and the internet is probably one of the best places to look. You may have to do a bit of delving around but there are many sites devoted to boat living in general some of which will contain forums or message boards where boating enthusiasts can exchange information and you may just get lucky and come across somebody who's looking to rent out their boat on a medium to long term basis.
Otherwise, you could be proactive and post a message on the forum or message board, stating that you're looking to rent for at least 'X' amount of months and the specifics of what you're looking for and you might find somebody gets back to you who can help or posts a response on the forum. Boating magazines will also contain classified ads so you may want to keep checking those or placing an ad yourself.
Things To Bear In Mind
If you do get lucky and have the opportunity to rent a boat for living on it's important that you establish certain issues. Firstly, you'll need to make sure that the boat comes with residential mooring rights as many mooring agreements prevent boat owners from letting their boat. If all the paperwork is in order in that regard, you'll also need to find out whether or not you're liable for council tax.
The chances are you will be liable with a residential mooring so don't simply assume that because you're living afloat with no residential 'address' as such that you're exempt from council tax as you're likely to end up in trouble with the local authority. If you're eligible, however, and you're able to obtain a live aboard rental, you'd still be able to claim the likes of housing benefit to cover the full or partial cost of the rental, the mooring costs and the boat licence.
Tenancy Agreements
You should normally be looking to obtain a common law tenancy and it's crucial that you carefully read through any tenancy agreement first. These will obviously differ depending on the boat's owner but things like security deposits, liability issues if there is any damage to the boat, your responsibilities regarding any general maintenance and who's responsible for what as well as the length of the tenancy are all issues you'd need to look at carefully.
Be prepared to hunt around, however, and to be both patient and pro-active in your approach as residential boat lettings are not as common as you might think.
You might also like...
Hi, I'm a professional looking to rent a boat for 12 months in or around Oxfordshire. If anyone has or knows of someone wanting to rent a boat out please contact me on 07539492221 Thanks
Ben
- 19-Jul-20 @ 11:40 PM
I'm desperately searching for a boat to rent... I was on the water 10 years til I went to America in Feb.. I've come back to nothing and am in a hotel. I would like to do housing benefit til I'm settled and find work.. I'm a single woman 42 and have a water trained dog too. I'm in Milton Keynes at mo but am not fussy about where I go.. Pls help
Punk
- 17-Jul-20 @ 10:46 AM
I'm looking to rent a houseboat in Edinburgh for a year, non smoker, responsible, good references.
Fashionista
- 2-Jul-20 @ 12:05 PM
Hi im a professional male looking to rent a boat in Cheshire long term as im looking to buy my own boat but want to experience the boat life first before I make the big plunge of buying my own narrow boat. 07868027799
Karlos
- 1-Jul-20 @ 9:08 PM
Hello I'm a professional clown, juggler and musician looking for a boat to live and work on for a few months... Please call 07432 235 247 No experience, just years of circus work and caravan life on the road.
Twix
- 26-Jun-20 @ 11:14 PM
Hi. Looking for a house boat rent initially for 6 months from July 2020 in the Cheshire / North East Wales area. One bedroom would be fine but happy to consider larger. Professional couple. No pets. Non smokers.
Simon
- 7-Jun-20 @ 2:26 PM
Am in the north west am looking to rent a boat to live on for as long as i can iv two small dogs if anybody can help please don't hesitate to contact me 07522487252 thank you
Brian
- 25-May-20 @ 8:37 PM
Hi. Looking for a reasonably priced narrowboat hire from approximately end of Aug 20 to Mar 21. North West region ideally around the Wigan Area. Static required but would like to take it on a few short journeys in September. 07531980097
Netty
- 20-May-20 @ 11:58 PM
hi looking to rent a boat house long term in heartfordshire
Tracy Thorogood
- 19-May-20 @ 4:23 PM
Hello, we are a happily married couple mid 50s very respectful and respectable, educated and professional. We are seeking a liveaboard narrow boat for long-term rent in Central Bedfordshire. Non smokers and no pet. Very good references and deposit available. Many thanks, Chez
Chez
- 17-May-20 @ 10:42 AM
Hi, I'm a writer looking to rent a narrow boat for 3-6 months in Cheshire, preferably in a marina/ boat community with facilities between Chester and Nantwich. Just me most of the time, but with room for 2 x sons to visit. 07505936028 Please text first Thank you??
Ginny
- 16-May-20 @ 12:53 AM
Looking for a minimum of a 1 bed house boat to rent near Iver Heath in Buckingham shire or within a 15-20 mile radius of said area. Ideally to include all bills, mooring etc. 07446985336 - please text first (often at work so can't pick up!)
Hannah
- 15-May-20 @ 10:28 PM
Looking for long term boat rental Buckinghamshire. Milton Keynes. Professional x2
Ali
- 13-May-20 @ 1:18 PM
Hi there, I'm looking for a narrowboat somewhere close to Ashby/Nuneaton for myself.I am hoping to eventually buy but would like to try for a while (6-9 months) first just to see if I can manage it on my own. It's just me so need to be in a marina with facilities.If you have a fit for me please contact me on 07308 393929 thanks.
Tracey
- 8-May-20 @ 8:58 PM
Hi I'm looking for a 3-6 month liveaboard rental in Milton Keynes or Northamptonshire area if anyone has anything please get in touch 07917854367
Gareth Keating
- 7-Apr-20 @ 8:00 AM
Nottingham based catering professional looking to rent long term to live inm 1 dog everyweekwnd and and 1nson due to long term split. Hopentonhesr from anyone soon.
Joe
- 22-Mar-20 @ 6:16 PM
Looking for a liveaboard barge/houseboat rental in Bedford, Bedfordshire.Please call Larry 07722 074 883
Lars
- 7-Mar-20 @ 7:48 PM
Hi iam looking to rent a house boat on river Thames between Hampton court and Oxford for 1 year if anyone knows of any could they please contact me Many thanks
Ggp1
- 3-Mar-20 @ 11:33 PM
Bonjour ,couple de retraite cherche a louer pour 6mois houseboat sur canal en france minimum 12 m de long, tres meticuleuse ,nous avons l intention d acheter un houseboat mais avant j aimerais vivre 6 mois sur un canal ,la bourgogne le canal du midi n importe quel canal ,merci .Marie
Marie
- 29-Feb-20 @ 6:49 PM
Dear Boat Owner My partner (construction engineer) & I are seeking a 2 bed houseboat relatively close to a tube & preferably in the borough of Richmond . W look forward to hearing from you. Longer term let preferable . Many thanks Margaret #07866983361
Maggie
- 24-Feb-20 @ 8:55 AM
looking for a live aboard rental for 6 - 8 months for me and my two children 15 and 13 ...i am looking for a residential letting . 01538 304660
animaflower
- 16-Dec-19 @ 9:02 PM
Many apologies I forgot to put our number 01536 693517 Maia
ZaZa
- 1-Dec-19 @ 6:07 PM
Hello I'm looking for a long term let for my retired partner and my self .we currently live in a rented property and are looking for a slower pace of life anywhere considered thank you Maia
ZaZa
- 1-Dec-19 @ 5:59 PM
Looking for liaboard rental Bourne End area. 07527772812
Steve
- 8-Nov-19 @ 10:51 AM
Hello, looking for a canalboat/ boat in the Bristol area with my partner to rent.Hoping for at least 6 months to try out before buying one.My partner is also a mechanical engineer so would be willing to utilise his skills if this would be useful. Phone number: 07964979380 Thanks!
Iona
- 8-Oct-19 @ 9:06 AM
Looking for houseboat to rent for 2 adults and 2 dogs.Working couple Contact 07758845256
Andyone
- 8-Sep-19 @ 10:00 AM
Hello, I am looking for a narrowboat in the Bedfordshire or Northamptonshire area. Thank you
Solvent single man looking for a mobile houseboat for long-term (at least 12 months) rental starting any time in the next 3-6 months (flexible on this). I am a hardworking professional and homeowner in East London looking to care for a boat as part of a lifestyle change. Please get in touch with any availability: 07535593823. Thanks, David.
David
- 26-Aug-19 @ 3:17 PM
Looking for a narrow boat or barge to rent permanently in Lancaster or garstang please call me on 07593546511 Nadine I'm looking for a lifestyle change and also looking around Cambridge area this move is urgent nadine
Nadine
- 19-Aug-19 @ 12:16 AM
Sorry, i forgot to put my phone details 07931184263
belinda bolwell
- 18-Aug-19 @ 9:26 PM