How to Furnish Your Boat Practically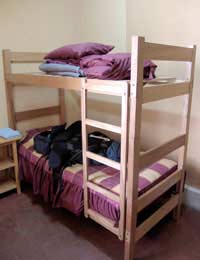 Furnishing your boat practically will obviously depend upon the size of the boat you're buying and whether or not it already comes fully furnished. Just because you've decided to live on a boat, it doesn't necessarily mean that you have to go without all the creature comforts that you've been used to when living in a house.
In fact, if you look at some photos of the interiors of some larger boats, you might even think that you were looking at photos of somebody's front room or bedroom/bathroom. You might see luxurious 3 piece suites and four poster beds, for example, or the latest in large screen LCD TV sets and sound systems.
However, the reality is that if you're buying a smaller boat, you'll need to think very carefully about how you go about furnishing it as space is likely to be limited so you may need to make some compromises.
Space Considerations
If you're buying a boat that comes fully furnished already, you've already got a head start as you'll be able to see where and how everything fits. Then, it's just a matter of deciding if it's furnished to your own taste and if not, then at least when you go out to replace the existing furniture you can do so knowing the exact size of each piece of furniture you're replacing and whether or not you have any additional 'room to play with' when it comes to buying something that suits you better.
But if you're starting from scratch, it's important that you prepare yourself for a lot of measuring. Basically, one of the best ways of furnishing your boat practically is to draw an aerial plan of your boat including all the relevant measurements along with the type of furniture you're looking to buy for each section and how you intend arranging it.
That way you can create a mental image of how you see your boat looking once it's furnished and will be able to work out what your limits are in terms of the size and shape of the various items you intend to purchase. Your main considerations are going to include:
Sleeping area - beds, wardrobe, cupboards, drawers
Seating area in the main cabin
Galley - cupboards, storage space etc
Furniture on deck (depending on what type of boat you're buying)
Once you've thought of those practical aspects then it's time to go shopping.
Buying Boat Furniture
There are many specialised boat furniture retailers out there, many of whom are also online. Even if you're the kind of person who prefers to buy furniture by actually seeing it and touching it first, having a look at a few specialist retailers online will at least give you some ideas of what your options might be.
Adaptability
If you've only got extremely limited space to play with, then it's often useful to consider certain items that can be adapted to save space. Examples would be things like foldaway tables or beds that can double up as a sofa but in many cases you may not want to have to consider those issues so it's a case of opting for something static but which will fit the measurements you've taken.
Quality
One of the things you will notice is the vast differences in price for certain items of furniture and it can be very tempting to do everything 'on the cheap' but it's well worth paying more and buying quality furniture, especially on any deck area which is going to be more exposed to the elements and to water in general. It's a case of thinking "do I want to spend an additional £100 on an item when I can get it that much cheaper elsewhere?"
However, you need to weigh that up against factors like whether or not you want a piece of furniture to last for many years or if you're not that bothered and are content to have to replace items every couple of years.
The crucial thing is to ensure that you get your measurements right and not to be tempted into buying something just because you really like it if it's going to be too big as you'll then need to compensate for that when considering other items of furniture in the same space so be sure that you think practically in terms of layout so that you buy items you like but which will not cramp the space in which to move about as having ease of access on and around your boat is something that can make a great impact on how much (or how little) you enjoy boat living as getting things wrong can make living on a boat seem restrictive and cramped.
You might also like...