How Can I Keep My Boat in Water During Winter?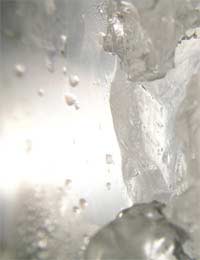 Q.
I want to keep my boat in the water all winter and I am looking for an electric air system to keep the water from freezing.
Two boats have it at our dock and they run all winter. I want a system that turns on when the water temperature is set to a certain level.
(M.D.M, 12 February 2009)

A.
Air circulation devices are available to keep the frozen waters at bay when vessels choose to brave the winter season in the water.
Simple, Ingenious Design
The simple idea behind these propeller-style contraptions is that they draw up warmer subsurface water to the cold top layer in order to prevent it from freezing. Warmer water exists at a lower level because as water gets colder, it expands and becomes lighter. At approximately 4°C, the warmer, denser water sinks, whilst the cold, lighter water rises, where it will freeze once cold enough.
Models Available
Depending the brand manufacturing these electric devices, they are variously known as de-icers, ice eaters and water circulators. The chief brands – such as Kasco Marine and the Power House - are typically North American-based, where there is a much greater need for marine de-icing than the UK.
Circulation units are fairly basic and standard in design and so it's mercifully easy to choose one that is ideal for your boat. Beyond the choice of manufacturer, the one key thing you just need to decide on beforehand is size.
Firstly the models available vary in terms of the horsepower required – typically from ¼hp up to 2hp – to cover the area you want free of ice. The standard units can de-ice areas of between 20 and 40 feet. Secondly you also need to choose the length of cord from which the device is suspended from your vessel. As the unit is slung underneath the vessel, the length of the line will depend on the size of your boat's hull.
Temperature Control
If you want to control temperature at which the circulator springs into life then you will need to buy a separate thermostat controller. Kasco and Power House each manufacture their own thermostat device to work alongside their circulator range. Although optional they are strongly advised for boats wintering on the water in a climate that is not prone to season long freezing, as they will significantly improve energy efficiency.
Positioning
As previously mentioned water circulation units come with a long length of cord to enable it to be slung beneath the boat, totally submerged in the water. It should be installed at least two to four feet below the bottom of the boat, whilst making sure there is enough depth to keep it off the bottom at all tide levels and away from any bottom debris. The unit will also feature a number of line attach points so that it can be positioned at an angle to help develop a circulation pattern to draw up the warmer water.
You might also like...
hi how do you go about getting a passport ith no address or friends address to use cheers guys
betty
- 8-Jun-19 @ 1:21 PM