Sailing: Meal Planning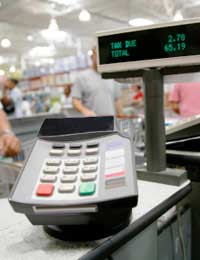 Meal planning for boating trips will very much depend on the type of trip you're going on but you should try and do as much pre-trip planning as possible in order to make the cooking experience more pleasurable and it will also make for less hassle later on.
Preparing Menus Ahead
Although it might seem a bit laborious, planning menus for each day of your sailing trip can save a lot of disagreements and mither later. If you're travelling with your family or as part of a group, you should all get together to prepare the menu. That way, everybody has some input to be able to include their own personal preferences. That way, all of the food can be bought in one go, providing you have enough room to store it.
Try to reach an agreement on the type of main meals you're going to have each night. Whilst breakfasts and lunches can often be very much an 'eat what you fancy' occasion, if you're cooking a main meal in a confined galley each night, you don't need to be faced with cooking separate dishes for each individual on board. Another variation is to take turns at being the 'chef' and allow the chef to choose the main meal each time it's their turn to cook.
Don't Overdo The Fresh Food
Whilst many people will enjoy a juicy steak or a fresh fish for their main meal, don't go overboard on buying lots of fresh produce for your boating trip unless you're going to be stopping off at supermarkets or other shops each day where you can buy these types of items as you'll inevitably run into problems storing it. Of course, fresh meat (both cooked and uncooked) and fish can be put into ziplock bags and kept in the fridge or in coolers of ice but not for much longer than a day in a cooler and, unless you have a freezer on board, if you take a lot of fresh meat and fish with you, it may well turn out that you end up throwing a lot of it away.
Also, if you're transporting both cooked and uncooked meats, make sure they are kept separate. Better still, keep them in separate cooler boxes as if ziplock bags split, the cooked meats could end up being ruined by the juices from the uncooked meat.
Choose Simple Foods For Breakfasts And Lunches
Cereals and milk are perfectly fine for breakfast on a boating trip but if this is something you eat regularly, you'll need to ensure you can buy fresh milk along your route or that there is enough storage space on board for long life (UHT) cartons of milk.
A good alternative breakfast can be comprised of cereal bars or toast and muffins or scrambled eggs or fruit. When planning meals for breakfasts and lunches, you should try to keep things as simple as possible.
One of the best ways of doing this is to consider food you can eat out of your hand, so sandwiches are usually ideal for lunchtime. Going back to meats, this is where tinned meats can overcome the problem of how you're going to store fresh meat. However, if you're going to be on the boat for a few days, go easy on the amount of tins and bottles you're going to bring on board due to shortage of storage space. In fact, jars and bottles should be only taken if absolutely necessary as they take up weight and space.
Another good rule of thumb is to take foods out of their original packaging and put into ziplock bags and plastic containers wherever practical.
Ideal Foods For Meal Planning
The longevity of food, weight and storage space can all be a factor in the types of meals you plan. For example, if you take a longer sailing trip at sea as a benchmark where there aren't going to be any shops and storage space might be limited, the following are all good examples of food you should be looking to take:
Rice
Pasta
Cereals
Crackers
Tinned meats and tinned fish
Dehydrated ready meals – those you just need to add boiling water to
Hard cheeses
Cured meats like dry sausage
Condiments And Treats
Don't forget things like salt, pepper, olive oil, margarine and preserves such as jam and marmalade and the odd sauce on your boating trip. You'd be quite surprised how much a relatively bland meal can taste if you've got some condiments to accompany them. Don't forget to bring a few treats like crisps, boiled sweets and chocolate too, although you may need to rely on fridge space for chocolate. The important thing about treats such as chocolate on a sailing trip is that they can help to boost your morale if the going gets a bit tough.
You might also like...