All You Need To Know About Boat Surveys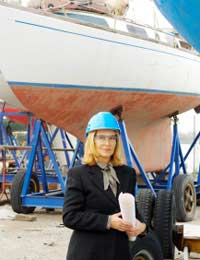 A boat survey from a qualified marine surveyor is absolutely crucial if you are looking to buy a used boat. It's your opportunity to make sure that everything is in working order and to determine the boat's overall condition.
One of the plus points about a boat survey is that if the marine surveyor should discover any kind of defect or malfunction, this does not necessarily mean that you should pull out of the sale (although you'd have every right to) but if it's a fixable problem, then this new piece of information may be a useful bargaining tool in terms of renegotiating the price with the seller as it would usually be the responsibility of the buyer to make right any defects. It's also the buyer's responsibility to pay for the cost of the boat survey.
Buyer's Report
When you employ the services of a marine surveyor to carry out a boat survey on a craft you're looking at buying, the boat will be brought out of the water so that the hull can also be inspected. The marine surveyor will carry out a thorough investigation of all the parts of the boat and will produce a detailed report for the prospective buyer. The areas of the boat which will come under closest scrutiny in the survey will be the following:
Hull and hull fittings
Deck and deck fittings
Rigging, sails and spars (if appropriate)
Interior joinery and furnishings
Installed systems such as gas, electric, fresh water and waste water disposal
Bilge pump
Navigational equipment
Propulsion equipment
Safety equipment – lifebelts, life rafts, fire extinguishers etc.
If there are any problems or if the marine surveyor has any recommendations, these will be laid out in the report. In addition to you keeping a copy of the survey for yourself, copies should also be made available for any finance lender and your insurance company as they'll need to know the boat's condition as well as its market value and replacement value which surveyors will indicate in the report.
Condition Reports
A condition report is something you might ask a marine surveyor to undertake at the end of the boating season so that you can plan any maintenance you intend having done over the winter months. An insurance company might also ask you, as the boat owner, to obtain a marine survey from a surveyor if your boat is over 15 years old or if more than 5 years have elapsed since its last condition report or if you're taking out boat insurance for the first time.
These types of reports will also usually entail you having to take the boat out of the water and the emphasis is always on a boat's safety and seaworthiness which surveyors will include in the report.
Damage Reports
If your boat is involved in a collision or suffers some other kind of accidental damage, you may need to obtain a damage report from a surveyor. This type of survey will focus on both the nature of the immediate damage caused as well as any resulting damage subsequently. It will include recommendations as to any repairs that will be necessary as well as giving an indication of costs to put any damage right.
Therefore, not only is a marine survey crucial if you're buying a used boat, they will also play a continual part once you've established ownership, helping you to plan maintenance duties as well as ensuring that you're constantly aware of your boat's market value in the event that you decide to sell at some point.
You might also like...